01. One project, many actors
The European Horizon 2020 VIVALDI project's far-reaching objective is to develop an innovative, sustainable and cost-effective solution to convert CO2 emissions from biobased industries into four organic acids that can be fed back into the biorefineries production process.
Converting these CO2 emissions will reduce greenhouse gas emissions and allow chemical industries to use them as a new raw material, lowering their dependency on fossil fuels and other natural resources. Initiated by the GENOCOV research group of the Autonomous University of Barcelona, this large-scale project began in 2020 and will run for five years. It includes no less than 17 European partners in an unique consortium, bringing together specialized in biobased products industrials as well as experts in innovative technologies creation and development.
02. VIVALDI, using innovation for decarbonization
To be carried out successfully, the VIVALDI collaborative project has been segmented into several key steps. The first one is to retrieve emissions from CO2-supplying partners in order to separate the CO2 from the rest of the molecules. This capture solution is based on a very innovative process using enzymes. This first step also includes the capture the nutrients (salts, ammonium…) present in the wastewater and necessary for the bio-production of organic acids.
Once isolated, the biogenic CO2 is purified before being converted into intermediary products thanks to an electrochemical reaction. This method allows the transformation of CO2 molecules into methanol and formic acid, compounds that will feed the next step of fermentation. Indeed, strains of genetically modified micro-organisms will be developed in order to consume the methanol and formic acid produced from CO2 and convert them into four carboxylic acids. Many industrial applications may be considered with these acids, including using them as substitutes for fossil-based components or as raw material for the production of new materials. As a result, they can easily be reintegrated into the (bio)chemical industry, improving the sustainability of processes and products. Processium was given the major task of designing and developing innovative processes to extract and purify the four final compounds from these fermentation musts.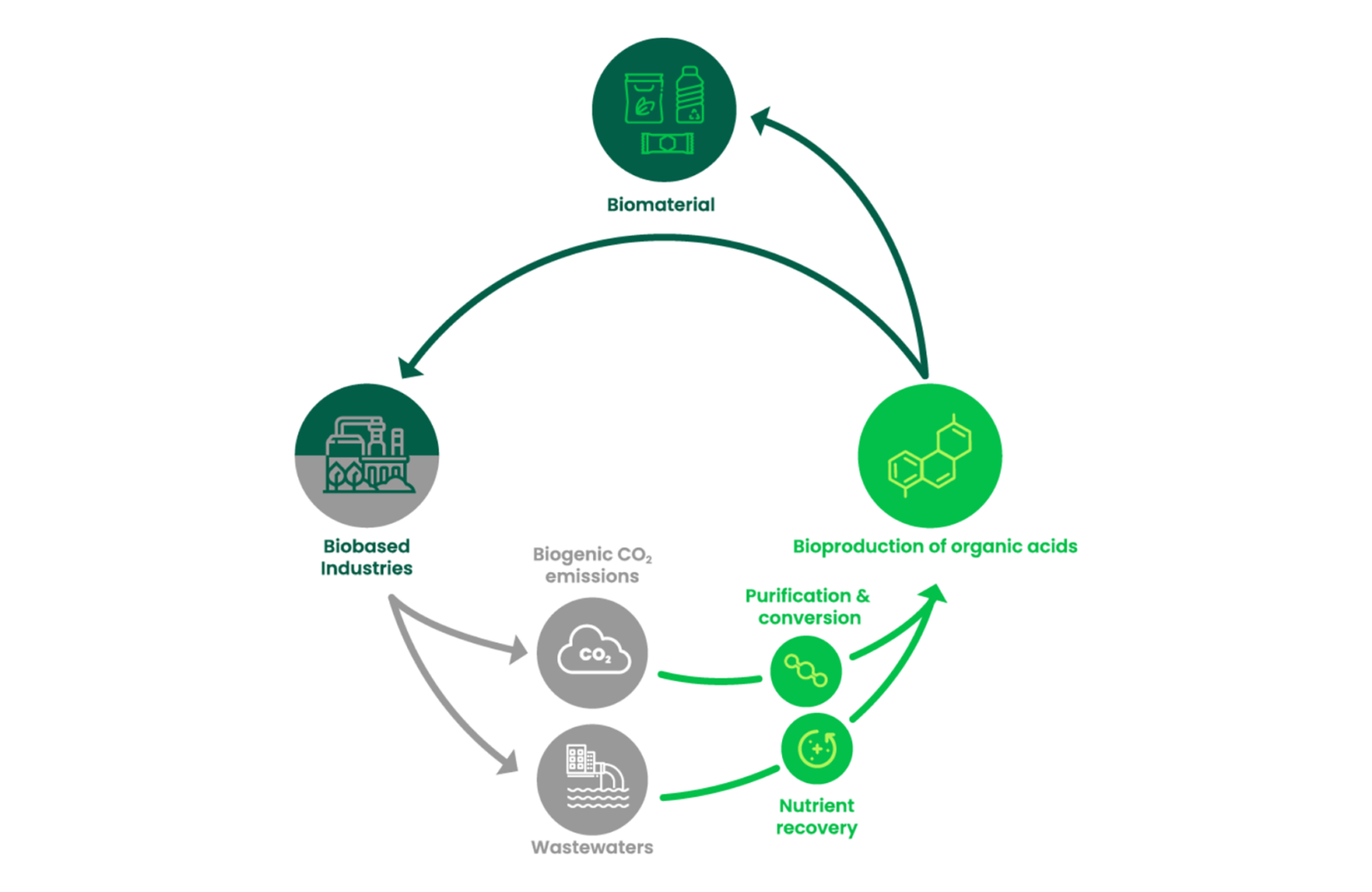 03. Processium's expertise
The final objective of the VIVALDI project is to provide a purified sample of the four acids to industrial partners. They will have to test these acids by reintegrating them into their manufacturing processes. In this way, it will be possible to determine whether the quality of the product is validated for an industrial-scale use.
The challenge for Processium is to design the most economically and environmentally efficient purification processes to extract four carboxylic acids (lactic, succinic, itaconic and hydroxy propionic acids) from a fermentation broth. To achieve this performance, Processium's engineers must design the most appropriate process schemes for the purification of each of these acids. This work consisting of identifying and selecting the best process solutions is particularly challenging technically, given the complexity of the starting mixtures, and economically, because we need to make the processes very competitive in terms of production costs.
The VIVALDI team will then be able to assess the feasibility of industrialising this bold concept which could be a disruptive technological innovation and accelerate decarbonization.
Retrouvez toutes les informations concernant le projet VIVALDI sur :